08.08.2022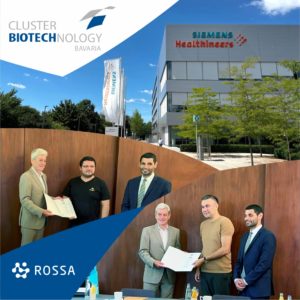 From July 11 to July 15, 2022, in the vicinity of Bavaria (Germany), the Bayern International business exchange program was held, in which ROSSA also took part. This event was organized by trAIDe under the order and support of the Bavarian Ministry of Economy, Regional Development and Energy.
As part of the program, participants from Uzbekistan visited: the Bavarian Biotechnology Cluster, the plant of Siemens Healthineers (one of the world's largest healthcare companies), the famous Sana Klinik in Rummelsberg and other organizations related to the fields of biotechnology and medicine.
During meetings and business incubators, the management of ROSSA held a presentation of their project in Uzbekistan, shared information about current products and developments. Preliminary agreements were also reached with Intana Bioscience GmbH and other Bavarian companies on cooperation in the joint development of new types of biotechnological products for the markets of Uzbekistan and Germany.
All participants of the program received certificates of participation in the Ministry of Economy, Regional Development and Energy of Bavaria.
Details at the link: https://fb.watch/eMEBB-v1kp/